Always wanted to learn CAD (Computer Aided Design) and create your own solid models suitable for 3D printing and many other purposes, but have no clue where to start? Well, you are in the right place! And it's free!
As my day job, I teach CAD to over 1,000 first year engineering university students every year. Most of them have never used CAD before. I realized that there was basically no suitable teaching material for somebody that needed to get a solid foundation but didn't have any prior experience. That's why I created this CAD course!
Taking a CAD Envy course is like having a private tutor guiding you through an amazing CAD adventure. It is mostly based on short video tutorials, and designed so you will follow along and create parts yourself. You can work at any pace you like, and you can stop and go back whenever you need to. I think CAD is the coolest thing ever, and I hope that when you are done with this course, you will be as passionate about CAD as I am!
This was the first video-based CAD course I created. It is using the 2019 version of Autodesk Inventor Professional, but it is still relevant both for earlier and later version of the software. In this course, you will create a real design that is suitable for 3D printing – the phone stand that you see on the photo below!
You can try out the first 10 lessons without enrolling, but to access lesson 11 and beyond, you need to click ENROLL below. It is still free, but you need to create a user account.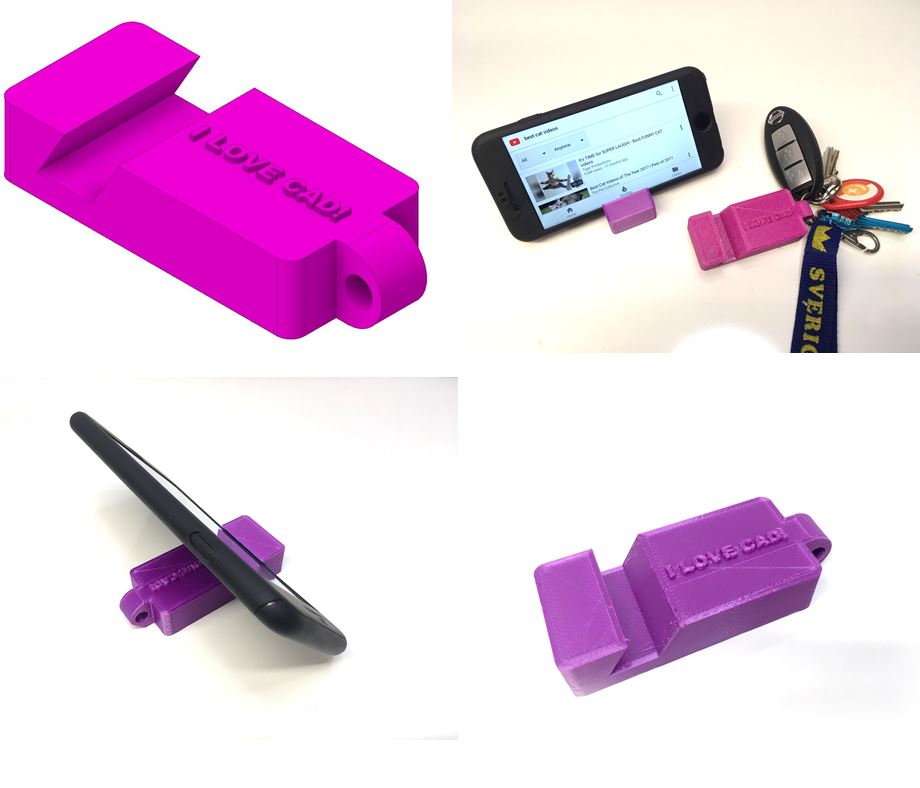 The learning outcomes for this course are:
Download and install Inventor
Learn the different file types in Inventor
Understand the overall workflow for creating a new part
Create a simple part using sketch and extrude
Export that part in STL format suitable for 3D-printing
Troubleshoot common problems
In this course you will learn the following features in Inventor:
Sketch (on origin plane and face)
Constraints
Extrude
Emboss/engrave text
Rounds and fillets
Material and appearance
Export as STL file format for 3D printing
Different line types
Troubleshooting / close loop
Visibility of model tree and ribbon
Videos included in this course:
What is CAD? (3 min)
Inventor licensing and installation (no video)
Welcome to Inventor 2019 (6 minutes)
Make your first part (1 minute)
Create a new file (2 minutes)
Sketch on an origin plane (17 minutes)
Extrude (3 minutes)
Sketch on a face (12 minutes)
Extrude – cut to (7 minutes)
Add text (5 minutes)
Rounds and fillets (4 minutes)
Material and appearance (5 minutes)
Export for 3D printing (3 minutes)
Edit your part (7 minutes)
Line types (9 minutes)
Extrude troubleshooting (5 minutes)
Constraints (13 minutes)
Help – stuff just disappeared! (1 minute)
FREE as Test Pilot
This is my first CAD course and I'd love you to try it for free!
Click ENROLL to become a CAD Envy Test Pilot! 🙂
Welcome to CAD!
Let's make something! 
Export for 3D printing
Edit your part
Features, commands, and troubleshooting